¡Hospédese con confianza!
Visítenos tranquilo, hemos implementado protocolos de higiene en todas las áreas del hotel, capacitado al personal para aplicarlas y guiarle durante su estadía. Puede encontrar más detalles ingresando a los protocolos COVID-19 que compartimos en este sitio.
Stay with us safely!
Visit us with confidence, we have implemented hygiene protocols in all areas of the hotel, but also trained staff to apply them and guide you during your stay. You can find more details by entering the COVID-19 protocols that we share on this site.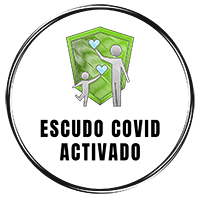 Protocolo Covid-19 (Español) | Covid-19 Protocol (English)